Louis Vuitton bags: Louis Vuitton Outlet and Louis Vuitton online Shop, buy Louis Vuitton handbags
Louis Vuitton bags - the company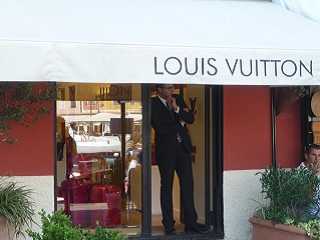 The designer handbags of Louis Vuitton "LV" belong to the world's most famous bags.
Louis Vuitton is part of the French LVMH Group, which is also owner of the luxury bags manufacturers Fendi, Bulgari and Dior.
LV is one of the world's most valuable brands of luxury goods (profit about 2 billion EUR annually).
In 1854 the Louis Vuitton Company was founded in Paris by the businessman Louis Vuitton.
At the beginning Louis Vuitton produced suitcases.
Today LV has specialized in luxury goods, especially on high quality bags, sunglasses, watches and jewelry.
With 33 years Louis Vuitton opened in Paris his first shop selling modern, flat and water repellent suitcases.
Louis Vuitton bags
In 1860 he built the first factory to produce high-quality leather goods himself.
1885 started the expansion of Louis Vuitton, at the beginning in London.
In 1892 the founder Louis Vuitton died. The fashion company was managed from 1893 to 1936 by his son Georges Vuitton, who invented the world-famous Louis Vuitton Speedy bag.
From 1936 to 1986 the grandson Gaston-Louis Vuitton has taken over the management, who designed the cylindrical Louis Vuitton Papillon bag, which is still sold today.
Louis Vuitton bags design - classic, elegant, beautiful
All Louis Vuitton bags are signed with the LV logo that was designed in 1896 from the son of Louis Vuitton:
The Canvas Monogram (flowers & squares) is based on a Japanese fashion trend.
The characteristic Monogram Canvas has been patented as a trademark and contributed significantly to the success of LV bags.
Some handbags of LV have been designed with the so-called Damier Canvas pattern
Damier = chequered pattern
Canvas = hydrophobic material
In 2002 was designed in collaboration with Takashi Murakami the Cherry Blossom-pattern (Cherry Blossom = Japanese Cherry Blossom), which was only available in a strictly limited edition.
Louis Vuitton likes to work together with Japanese designers, so in 2008 the Japanese Rei Kawakubo designed an exclusive canvas bag collection for LV.

Louis Vuitton has cooperated several times with the chief designer Marc Jacobs (working since 1986 for LV) to create the Keepall and Speedy handbag with Louis Vuitton graffiti, which were only available in a strictly limited edition.
In 2009 the design of the Louis Vuitton bags collection has been enriched with colorful designes.
Since then pink, green and orange graffiti prints have been used for decoration of some LV bags models.
Louis Vuitton bags collection
One of the most popular classic Louis Vuitton bags is the Speedy Bag, which is available in 4 sizes and different materials / patterns.
Another "it bag" is the model Keepall, which can be personalized with your initials and two colored stripes.
The Louis Vuitton bags collection includes the following categories:
Louis Vuitton handle bags (Speedy, Alma, ...)
Louis Vuitton shoulder bags (Fantaisie, Brea, ...)
Louis Vuitton evening bags (Rossmare, ...)
Louis Vuitton clutches (for example, Milla Pochette, ...)
Louis Vuitton Shop - Louis Vuitton bags Shop
There are already over 1.100 Louis Vuitton stores all over the world, you can find a LV shop in every metropolis.
Since 1978 the grandson of Louis Vuitton has pushed the expansion in Asia - now you can find LV stores in Japan, Korea, ... and since 1992 also in China.
Louis Vuitton Outlet, Louis Vuitton bags Outlet
In Italy you can find following Louis Vuitton Outlets:
There is no Louis Vuitton Outlet - LV has no outlets, no "sale", no discounts ...
The prices in the Louis Vuitton Store are always the same - only the employees of LV can buy a limited number of Louis Vuitton bags cheaper.
Louis Vuitton online Shop - Louis Vuitton bags online Shop
Original LV bags are relatively expensive (about 350-4.000 EUR), so in Internet there are circulating many fake Louis Vuitton bags!
If you buy a bag please verify the authenticity - especially eBay Stores offer very often fake LV bags (see our recommendations for Gucci bags fakes). After your purchase the websites suddenly disappear without a trace ...
Lous Vuitton continues to be strict with his trademark. If you are buying a fake Louis Vuitton bag and you get caught there is a penalty of about 2.600 EUR.
To buy Louis Vuitton bags online at the best price, we recommend to compare the prices of several online stores before.
All Louis Vuitton handbags models and prices can be found on the official Louis Vuitton website: