Savona parking
Parking in the port of Savona
Where can I find a safe parking garage to park my car in Savona near the port (Porto Savona) while traveling by Costa cruise ship or AIDA from the Cruise Terminal "Palacrociere Savona "?
If you want to find secure parking at the port of Savona to keep the car in a safe place without stress , then we recommend the garage of MyParking that offers in the immediate vicinity at the port of Savona a large parking garage.
We'll tell you where you can find convenient car parks near the port of Savona and how easy you can book your garage online.
The advantage of the recommended parking possibilities is that your vehicle is under 24 hours video surveillance and you can book the garage at a fair price.
Parking Savona port "Garage Alfa E Omega"
"GARAGE ALFA E OMEGA"
Via Nicola Bartoli, I-17100 Savona
Ideal parking at the port of Savona if you have to go to the cruise ship terminal. Garage with 24 hours video surveillance.
Car park overview
Parking position: Safe garage nearby the arrival / departure of the Costa cruise ships.
The garage is located only 5 minutes from the port "Stazione Marittima Savona".
For online reservation: Free shuttle service to the port of Savona (cruise ships - "terminal CROCIERE Savona").
Opening hours: in agreement with the arrival / departure of the cruise ships -> see "Details" at MyParking
Price: current prices and special offers for your garage in Savona you can find on the website
Savona Hotel recommendation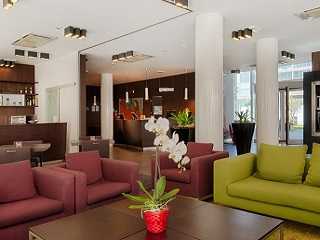 Hotel NH Savona Darsena ****
Position: The brand new hotel is located in the heart of Savona's historic harbour area, 5 minutes' walk from Brandale Tower and the cruise terminal.
Insider information:
It offers modern air-conditioned rooms and LCD-Sat-TV.
Only 50 m to reach the Savona port
Perfect location, next to the cruise ship terminal, ideal to stay before / after Costa's cruises
To the price comparison:
Hotels Savona
Address Savona Port - Savona port Costa
Terminal Savona
17100 Savona (SV)
Via Baglietto Antonio 1
Tel: 0039/019/838811
The architecture of the Savona Port was  designed very modern.
Unfortunately there are few shops, bars, … in the Costa building.
Parking in Italy recommendations
Here you can find further information and tips around the topic parking in Italy:
Further interesting articles
NEXT ARTICLE
→
Venice parking