TELEPASS Italy: buy TELEPASS Italy, toll Italy TELEPASS – how works the TELEPASS toll system in Italy, how to buy TELEPASS for Italy
TELEPASS Italy
The most easy possibility for the payment of motorway tolls in Italy is TELEPASS. Thanks to this system you can avoid queues:
By use of the video toll system TELEPASS you are always the fastest at the toll stations in Italy, because you are allowed to use a reserved lane for TELEPASS members and you do not have to stop for toll payment.
We will show you where you can buy the TELEPASS for Italy and how works the payment of Italian motorway tolls.
By use of the TELEPASS Italy and the prepaid ViaCard you can pay the toll on all motorways in Italy (with the exception of Sicily).
We will show you how to pay the road toll in Italy by use of TELEPASS. Furthermore you will find a list with all advantages and disadvantages of this automatic toll system.
Advantages TELEPASS Italy
Cashless payment of motorway tolls in Italy
Reserved yellow lane at the toll stations for TELEPASS or lane with symbol "T"
No stop at toll station, just drive through -> no waiting time
Automatic accounting of the motorway tolls (once a month)
NO Italian bank account necessary (thanks to tolltickets)
NO more acrobatics required to pay - especially for those with short arms or drivers of on the right side driven vehicles (England, ...)
NO stress
With the service GO BY TELEPASS you can also pay for some parking places in Italy (important: take the entry/exit track with the TELEPASS logo)
Here you can find many other practical recommendations regarding toll roads in Italy:
Italy motorway tolls
Disadvantages TELEPASS Italy
Registration required, monthly service fee (about 4 EUR / month - stand 2020) for GO BY TELEPASS to travel free in Italy, France, Spain and Portugal
Activation cost (about 15 EUR / month - stand 2020)
Waiting time for electronic receiver "TELEPASS Box"
No discount, not even for frequent travelers
For those who take toll roads only sometimes it is questionable, if the difference of a few minutes of waiting time will justify the purchase of TELEPASS
Buy TELEPASS Italy: where to buy TELEPASS in Italy ?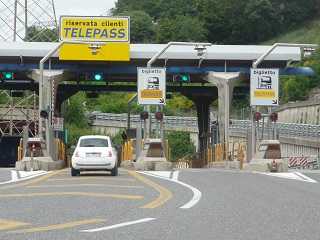 In the past there was required an Italian bank account.
Today you can order the TELEPASS toll boxes for cars and motorcycles online at tolltickets: www.tolltickets.com/en/
But take into account that it will take a few days for delivery time of the receiver.
Then this box (TELEPASS OBU "ON-Board Unit") must be fixed behind the windshield.
Furthermore you can pick up the toll boxes directly at selected tolltickets pickup stations in Germany (Frankfurt am Main, Rohrdorf), Austria (Arnoldstein) and United Kingdom (Stanford):
www.tolltickets.com/en/pick-up/
Alternatively you can use the prepaid card ViaCard for Italy "VIAcard".
Both ViaCard and video toll TELEPASS you can buy at tolltickets.
Buy TELEPASS in Italy - Italy TELEPASS
You do not have to make an advance booking for the TELEPASS - it can be purchased directly in Italy.
The TELEPASS can be purchased at:
"PuntoBlu" Motorway Service Station Company Italy
TELEPASS Point
Pay toll in Italy with TELEPASS: Toll Italy TELEPASS
When you exit the Italian motorway you will reach the toll gate - the so-called "casello".
If you have a tele-pass receiver then you can take the yellow lane "TELEPASS" (reservated TELEPASS track) or a lane with the symbol "T".
In this track there is no queue because the drivers do not have to stop to buy (full automatic payment without staff, you can drive through the toll gate with a speed up to 30 km / h).
When you drive through the toll gate you will hear a high tone from the receiver that confirms the successful payment.
The traffic light gets green, the barrier opens and you can already speed up again.
TELEPASS Italy accounting
If you use TELEPASS to pay the Italian motorway toll, then you will receive the bill from tolltickets.
You do not get individual bills for each toll station, instead you will get a toll list for each vehicle.
The total due will be charged including the service fee every 1-3 months.
 The toll is automatically paid by use of:
TELEPASS Family - only with Italian bank account
The offer TELEPASS Family is available only for those who own an Italian bank account or an Italian credit card.
The TELEPASS Family can be ordered online, the payment / accounting will be done from the Italian bank ("banca convenzionata").
With the option TELEPASS TWIN you can register additional 2 cars.
For more information please refer directly to the TELEPASS provider:
www.telepass.com/en/
Italy toll - more information
Here you can find further information regarding toll roads in Italy and how to calculate and pay the motorway toll: