Hermès bags: Hermès bags Outlet and Hermès online Shop, buy Hermès handbags
Hermès bags - the company
In 1837 the fashion company Hermès was founded in Paris and at the beginning they have produced saddles.
Hermès (pronounced as "Ermess") manufactures besides Hermès bags numerous other luxury goods like belts, silk scarves, watches, jewelry and perfumes.
The company's founder Thierry Hermès was not born in France but in Germany / Krefeld.
With the increasing motorization the learned saddler Hermès started at the end of the 19th century the production of leather handbags and suitcases in Paris.
Since this moment Hermès bags belong to the most popular luxury goods in the world.
The bags are very popular and the waiting list is long - thus only a few ladies can call a Hermès bag their own.
Very special at Hermès bags is the fact that they are handmade by only one person from start to finish.
The required production time for a bag is approximately 18-24 hours.
Hermès bags design, Birkin bag design
Since 2004 Jean Paul Gaultier is the chief designer of Hermès.
Hermes handbags are beautiful and a status symbol - Hermès stands for luxury and exclusivity.
Hermès bags are recognizable by an horse motif and the H-logo.
The Hermès Paris logo shows also a horse-drawn carriage as emblem.
Hermès stands for functionality, high quality, stylish and timeless elegance.
For handbags it will be used only high quality materials for example calf leather, ostrich leather or crocodile leather.
Hermès bags models: Kelly Bag
In the 50s Hermès succeed a big breakthrough with the Kelly Bag, which was named after the American actress Grace Kelly (= Princess Gracia Patricia of Monaco).
1956 she was pregnant and presented the bag for the cover of the magazine "Life".
In the origin the Kelly bag was a large travel bag "bag with shoulder strap" which was alredy used in 1892 for the transport of horse bridles.
The trapezoidal Kelly bag has become an "It-bag" and was getting world famous, it is produced in 18 hours by hand and the waiting time is around 6 months.
The price of the Kelly bag? Approx. 3.600 EUR.
Hermès bags models: Birkin Bag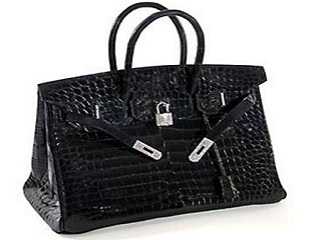 The designer Birkin bag belongs together with the legendary Kelly bag to the most popular Hermès bags.
Since Carry has worn in the series "Sex and the City" a Birkin bag it has become world famous.
The hand-made Birkin bag is very difficult to find (about 2 years waiting time) and the price is depending on the model about 2.200-22.000 EUR.
The custom-made Birkin bag is particularly spacious – corresponding to the motto of the designer "Therein I store my whole life".
In 1984 the handbag was invented by the British actress and singer Jane Birkin during a flight from New York to Paris when she could not find anything in her bag and dumped the entire content on the lap of the seatmate – no one other than Hermès CEO Jean Louis Dumas .
So the idea of a spacious Birkin bag was born.
Hermès Boutique - Hermès Shop
Worldwide, there are more than 250 Hermès boutiques where you can buy handbags, belts and other luxury goods.
Hermès address Paris:
Rue du Faubourg-Saint-Honoré 24
Hermès boutiques Germany:
Munich, Stuttgart, Nuremberg, Berlin, Hamburg, Cologne, Dortmund, ...
In Munich you can find a Hermès boutique in the Maximilian Strasse and at Munich airport (gate 24) - there you can buy Hermès bags when you are in transfer.
Hermès boutiques Italy:
Milan, Turin, Portofino, Venice, Florence, Rome, …
Hermès boutiques Switzerland:
Zurich, Berne, Basel, Lucerne, Geneva, …
Hermès boutiques Austria:
Vienna, Salzburg
Hermès Outlet, Hermès bags Outlet
There is no Hermès Outlet
The bags are sold exclusively in Hermès boutiques and the Hermès online shop.
Hermès online Shop - Hermès Outlet online, Hermès handbag prices
The waiting time for a genuine Birkin or Kelly bag is several months and the price starts at 2.200 EUR.
On eBay you can find each month more handbags than Hermès ever made – this means there are many fake Hermès bags in circulation!
I you are buying pleas verify the authenticity (see our recommendations for Gucci bags and Louis Vuitton bags fakes).
Generally it is quite difficult to find original Hermès bags online. Normally you have to visit to the Hermès boutique or Hermès online shop.
All Hermès handbags models and a Hermès bags price list are available on the official Hermès website: