Italy Outlet Castel Romano - Designer Outlet in Rome
McArthurglen Castel Romano Outlet - 20 min from Rome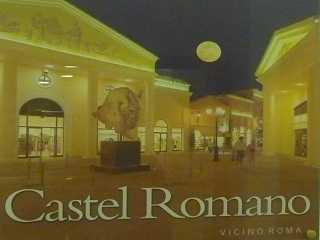 In 2003 the Castel Romano Designer Outlet was opened - also known as McArthurglen Designer Outlet Rome or Rome Outlet.
The Castel Romano Outlet is located in Italy, about 25 km south of Rome and only 30 km from the Airport Rome "Aeroporto Fiumicino".
The Designer Outlet in Castel Romano is perfect to combine your holiday in Rome with a shopping tour.
The Rome Outlet is a popular designer outlet where you can buy Italian fashion for cheap prices.
If you plan a holiday in Rome the Outlet is on the way. There are more than 110 designer stores – if you love fashion than a visit is a must!
In the Rome Village you can find Italian fashion and Italian handbags with 30-70% discount!
Outlet Castel Romano - designer brands
In the Designer Outlet McArthurglen Castel Romano you can find almost all famous designer brands:
Burberry, Fossil, Furla, Guess, Liu Jo, Missoni, Patrizia Pepe, Pollini, Piquadro, Roberto Cavalli, Salvatore Ferragamo, Sisley, Tommy Hilfiger, Valentino, ...
Most of the fashion designers come from Italy, but there are also present some fashion labels from the USA and other nations.
You can find a complete list of all brands on the website of the outlet.
Handbags made in Italy in the Rome Outlet
In the Castel Romano Village there is a big variety of shops where you can buy bags made in Italy.
In the Outlet you can find handbags from Italian designers much cheaper, for example bags from Furla, Roberto Cavalli, Pollini, ...
You will see the difference if you compare the prices for Italian handbags in the factory outlet with the prices in the boutiques of the fashion designers.
If there is an Italian bag on your shopping list, then you should definitely plan a visit in the Designer Outlet.
Here you can find a list of Italian handbag Outlet Stores in the Castel Romano Village:
Furla Outlet: Outlet Village Castel Romano
Furla Webshop: Furla bags online Shop
Liu Jo Outlet: Outlet Village Castel Romano
Liu Jo Webshop: Liu Jo bags online Shop
Pollini Outlet: Outlet Village Castel Romano
Pollini Webshop: Pollini bags online Shop
Roberto Cavalli Outlet: Outlet Village Castel Romano
Roberto Cavalli Webshop: Roberto Cavalli bags online Shop
Salvatore Ferragamo Outlet: Outlet Village Castel Romano
Salvatore Ferragamo  Webshop: Salvatore Ferragamo online Shop
Valentino Outlet: Outlet Village Castel Romano
Valentino Webshop: Valentino bags online Shop
Handbags made in USA in the Castel Romano Outlet
If you prefer bags made in America then you can find also some shops in the Castel Romano Village.
Following handbag designers from the United States are operating an Outlet Store in the Rome Village:
GUESS Outlet: Outlet Village Castel Romano
GUESS Webshop: GUESS online Shop
Tommy Hilfiger Outlet: Outlet Village Castel Romano
Tommy Hilfiger Webshop: Tommy Hilfiger online Shop
Fossil Outlet: Outlet Village Castel Romano
Fossil Webshop: Fossil online Shop
Designer Outlet Castel Romano - incredibile discounts !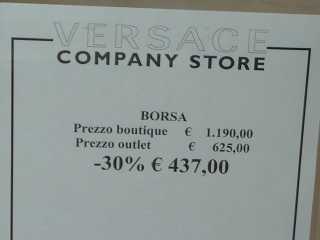 In the Rome Outlet Center many designer handbags are sold with up to 70% discount!
The outlet prices for luxury bags are much lower than the boutique prices.
Tip: If you visit the outlet during the end-of-season sale "SALDI" you will profit from an additional discount!
The only restriction is that the selection is limited and the collection will be from the last years.
For new bag models the prices will be the same as in the boutiques – in the Outlet you will not find a discount for the recent bags collection.
Castel Romano Village opening hours
Monday to Thursday: from 10:00 to 20:00
Friday to Sunday: from 10:00 to 21:00
We do not recommend a visit on Saturday / Sunday afternoon because the shops will be very crowded.
Castel Romano Outlet directions
How to get to the outlet by car
The Outlet is located about 25 km south of the center of Rome. Take the A90 ring motorway "Grande Raccordo Anulare" till exit "Pontina".

Follow the main road "Via Pontina" (SR 148) in direction south till exit "Castel Romano".

You will find the Rome Outlet only 300 m after the motorway exit.
McArthurglen Outlet in Italy
The English McArthurglen group operates a variety of factory outlet centers in Europe, especially in UK, Italy, Germany, Austria and France.
Europe's largest Designer Outlet is located in Serravalle, but there are many other McArthurGlen outlet villages in Italy.
McArthurglen Outlets in Italy:
Further Designer Outlets in Italy:
Further interesting articles