Furla Handbags: Furla online Shop and Outlet
Furla bags - the company
Furla is an Italian fashion company that since 1927 produces leather goods in Bologna.

With top quality at reasonable prices (about 100-400 EUR) the Italian bag manufacturer Furla has entered into the premium segment.
In the 70s Aldo and Margherita Furlanetto have designed  the first Furla handbags line.

Apart the desing of bags, Furla is famous for the production of belts "Cinture",  acessoires "accessori", jewellery "gioielli" and Furla sunglasses.
The credo of the manager Giovanna Furlanetto is: "Not only rich women have the right for beautiful things."

Furla lives "understatement"
Giovanna Furlanetto
Giovanna Furlanetto at first glance looks very unimpressive in appearance, dress and voice, but she is the boss of one of the most successful leather goods company in Italy.
Furla produces high-quality bags for open minded, hardworking and self-confident women with the slogan:
"You can giva a Furla bag as a present for yourself"
Furla bags models
The high-altitude flight of the Furla handbag collection has a long tradition.

Furla is for clear lines and high-quality and modern materials.
For example the innovative combination of leather with nylon and rubber.
Furla provides sporty and affordable luxury handbags with style and elegance.
The Furla bag collection does not follow fashion trends, such as MIU MIU or Dolce Gabbana bags, but offers a classic Italian style: avant-garde, elegant, understated and simple.

Furla sees itself as "naturally luxurious" .

Top quality, reasonable prices and a perfect balance between style, perfectly shaped elegance and fashionable trend - that is Furla.
Furla Online Shop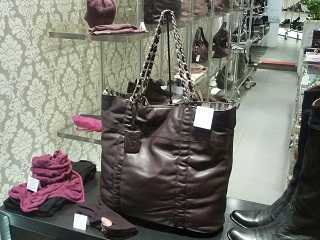 The current Furla women's bags collection can be found in the Furla online shop:
The latest Furla bags models are:
elisabeth, carmen, divide-it, piper and other bags lines (for example anthea, hope, sally, ...)
In the Furla online shop you will find Furla bags, wallets, belts, leather accessories and watches.
The online shop is online since 2008. In the "E-shop" you can order the latest handbag collection.
Furla Shops
Furla bags and accessories like Furla sunglasses can be found in over 65 countries now in more than 300 Furla stores "mono-label stores" worldwide.

Furla produces approx. 800.000 bags annual

Also in Genoa you can find a Fula shop: 16121 Genova, Via Roma 48/r
Furla Outlet in Italy
In Italy you can find following Furla Outlets:
SERRAVALLE DESIGNER OUTLET
McArthurglen Outlet Serravalle, about 50 km north of Genoa
Brands: Benetton, Bulgari, CK, Coccinelle, Dolce Gabbana, Furla, Guess, Liu Jo, Mandarina Duck, Prada, Salvatore Ferragamo, Sisley, The Bridge, Tommy Hilfinger, Versace, …
More information - see Serravalle Outlet - 50 min from Genoa
BARBERINO DESIGNER OUTLET
McArthurglen Outlet Barberino, about 30 km north of Florence
Brands: Coccinelle, Roberto Cavalli, Furla, Guess, Pinko, Prada, Pollini, The Bridge, ...
More information - see Barberino Outlet - 30 min from Florence
FIDENZA VILLAGE
Village Outlet in Fidenza, about 25 km west of Parma
Brands: Alviero Martini 1° classe, Armani, Braccialini, Calvin Klein, Coccinelle, Fossil, Fratelli Rossetti, Furla, Guess, Missoni, Piquadro, Pollini, Valentino, Tommy Hilfiger, Versace, ...
More information - see Fidenza Village Outlet - 20 min from Parma
CASTEL ROMANO DESIGNER OUTLET
McArthurglen Outlet Castel Romano, about 25 km south of Rome
Brands: Burberry, Fossil, Furla, Guess, Liu Jo, Missoni, Patrizia Pepe, Pollini, Piquadro, Roberto Cavalli, Salvatore Ferragamo, Sisley, Tommy Hilfiger, Valentino, ...
More information - see Castel Romano Outlet - 20 min from Rome
Furla Website
Here you can find the official Furla website:
www.furla.com
Further interesting articles