GENOA HOLIDAY APARTMENT
Apartment for up to 4 persons - also idal for home office
If you come to Genoa and want to rent a nice holiday apartment without commission and with attractive price from private, then I recommend my apartment. It is located at the green belt in the "San Gottardo" district.
The completely renovated and modern apartment is south-east oriented and very bright and friendly thanks to two large French doors.
Highlights: 2 bedrooms, fully equipped kitchen, balcony, bathroom with whirlpool tub, parquet floor in all rooms, Broadband Internet (Wi-Fi), ...
Excellent infrastructure with many shops and very good bus connections to the center of Genoa.
Ideal for a weekend as well as for a long term stay. Possibility to have breakfast in the nearby bar.
Note: The residential complex is located on a hill and can be reached via a staircase with 80 steps. Therefore, you should be physically fit.
Holiday apartment Genoa for 1 - 4 persons
Apartment about 75 m2
Living room with couch
2 rooms with double bed
Kitchen with fridge, dishwasher, washing machine, …
Bathroom with whirlpool
Balcony
Broadband Internet (Wi-Fi)
Position
Address: 16138 Genoa, Via Piacenza (details will follow upon booking).
Located in an authentic district of this city "San Gottardo" on the northern green belt between the neighboring districts Molassana and Staglieno.
The motorway exit "Genova Est" (Genoa East) is only 2.5 km away and there are numerous buses to reach the center of Genoa in a short time.
Living room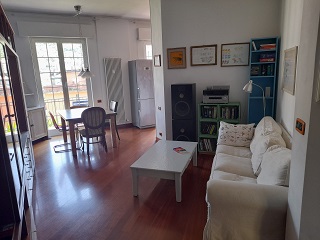 The living room and the kitchen are open spaced. Thanks to two large French doors the living area is very bright and friendly.
The dining table can also be used perfectly for a home office, the Internet W-LAN signal is strongest here. A 24" monitor with HDMI cable, external keyboard and mouse are available.
Some German programs (ZDF, ntv, VOX, 3sat, SIXX, ...) can be received on the television with satellite connection. Using a HDMI cable you can connect your laptop to the TV.
There are some books available on the shelves. There is also a collection of games for entertainment.
You can enjoy music on the high-quality stereo system: Alexa Echo Dot, radio, CD or simply connect your smartphone with the audio cable (AUX).
Equipment:
Big couch
Dining table with 4 chairs
Monitor 24", keyboard, mouse
TV 55" with satellite
Books
Board games, Monopoly, playing cards, ...
Hi-Fi system 100 W
Alexa
Kitchen
The apartment offers a fully equipped kitchen with numerous electrical devices and the most important cooking utensils.
Equipment:
Fridge with freezer compartment
Oven (electric) with gas hob
Toaster, water heater, microwave
Coffee machine (for Nespresso capsules)
Dishwasher, washing machine
Cooking pots, tableware and cutlery
Ironing board and iron
Bedroom "Stefano"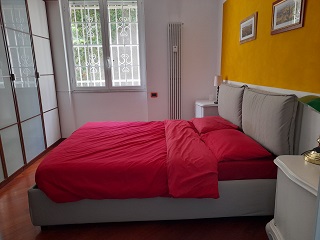 Here is a double bed (width 160 cm, length 190 cm) with a single mattress.
In the large wardrobe you will find enough space for your personal belongings.
Equipment:
Double bed
Nightstand with lamp
Wardrobe
Linens are provided
Bedroom "Giulia"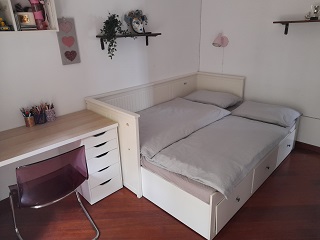 There is another double bed (width 160 cm, length 190 cm) with separate mattresses.
Equipment:
Double bed
Shelf
Desk
Linens are provided
Balcony
From the kitchen you can reach the balcony (length 5.5 m, width 1.2 m). Due to the south-east orientation, you can enjoy the sun all day long. On the balcony you will find two comfortable wooden armchairs and a round iron table with mosaic.
To dry your washed laundry, you can use two 5 m long washing lines and a wall-mounted telescopic clothes dryer.
Equipment:
Table with 2 armchairs
Washing lines
Sun protection awning
Weather station thermometer / barometer / hydrometer
Bath / WC
The spacious bathroom offers two sinks and a whirlpool with built-in radio, light effects and massage jets.
If necessary, you can ventilate through the bathroom window.
The hot water comes all year round from the central heating of the residential complex.
Equipment:
Toilet and bidet
Double sink
Whirlpool tub
Hair dryer
Fan heater
Towels are provided
Public transportation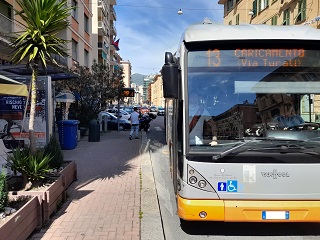 Very good connection by bus:
Bus stop "Piacenza 4/Fossato Cicala" only 80 m away
Bus "14 Brignole" goes to the "Brignole" train station (journey time approx. 20 min). From there you can walk to the center via "Via XX Settembre" or "Via San Vincenzo"
Bus "13 Caricamento" passes by the train station "Brignole" and then continues to the port "Porto Antico" (journey time approx. 35 min)
You can buy bus tickets in the kiosk or in the tobacconist next to the bus stop.
Free public parking
Unlike the center of Genoa, in the San Gottardo district you can find some free public parking spaces, for example in the street "Via Emilia" (which runs parallel to "Via Piacenza") or in the parking lot at the end of the street "Via Fossato di Cicala 5 Parking".
Please note, however, that every Thursday the weekly market takes place in "Via Emilia". You are not allowed to park there on Thursday mornings because the stands for fresh fruit and vegetables are set up.
Accessibility – Note Stairs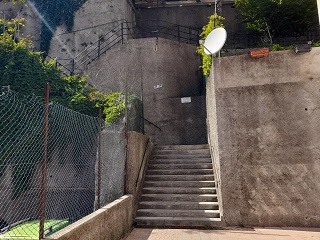 Attention: The apartment is located in a residential complex on a hill. The front door can only be reached via a staircase with 80 steps. Therefore, you should be physically fit - here the daily fitness program is included for free!
The long staircase is divided into several sections, there are 2 benches in case you need a short break.
After you have reached the front door you can take the elevator to the 1st floor.
The residential complex can only be accessed on foot. You cannot drive your car in front of the entrance. To unload your baggage from the car, it is best to stop at the supermarket "In's Mercato", which is in the immediate vicinity.
Very good infrastructure

| | |
| --- | --- |
| Bar "Charlie's Angels" | 80 m |
| Bakery/Confectioner "Panificio Mia" | 80 m |
| Supermarket "In's Mercato" | 80 m |
| Discount EKOM | 200 m |
| Supermarket BASKO | 250 m |
| LIDL | 350 m |
Close by

| | |
| --- | --- |
| Outdoor/Indoor Pool "Sciorba" | 650 m |
| Monumental Cemetery "Staglieno" | 2,4 km |
| Motorway Exit "Genova Est" | 2,5 km |
| Train station "Brignole" | 5,3 km |
| Center "Piazza De Ferrari" | 5,9 km |
| Port "Porto Antico" | 8,5 km |
Shading
Electric shutters and awnings are available for shading
House rules
Children welcome
No pets
No events, noise is to be avoided
Smoking only on balcony
Minimum age of main guest: 19 years
Private rental
Check-in: 12 a.m. – 6 p.m.
Check-out: until 10 a.m.
Minimum stay: 2 nights
Inquiries & reservations via email
Rent your Genoa holiday apartment commission free & with attractive price from private! Make your reservation now:
STEFAN RADNER
radner.stefan.it@gmail.com
Genoa travel tips
Here you can find many other information about Genoa: