Campomaggi handbags: Campomaggi online Shop and Outlet
Campomaggi bags - the company
Handbags from Campomaggi are internationally not so famous as Gucci handbags or Prada bags.
Therefore Campomaggi bags are right for ladies who are looking for an unusual and special bag.
The Italian bag brand Campomaggi was founded in 1980 in Florence by the stylist Marco Campomaggi.
The noble Campomaggi bags stand for longevity and tradition.
For the fashion company it is important to create individual bags which ones will maintain the character and value all the time.
In addition to the exclusive vintage look there are used very particular materials for Campomaggi bags.
The founder and designer Marco Campomaggi has already designed the first bags when he was a schoolboy. He liked to create bags with the highest craftsmanship and he started to sell the bags to friends on the beach promenade.
Campomaggi bags
The handmade bags are made of high quality leather goods - mostly cowhide leather and solid metal rivets.
The designs of Marco Campomaggi has been influenced by the creativity of his father, who worked as a sculptor.
A Campomaggi bag is the ideal companion for leisure time, but also can worn in the office.
Campomaggi designs handbags that are not only used for one season, but retain their value.
In 1986 Marco Campomaggi has created with his wife Caterina Lucchi a second successful bag brand: Gabs bags
Campomaggi handbags - individual look
The manual production process has been patented: the leather bags are first completely manufactured and then washed in barrels with colors and secret additives, thereby each bag becomes unique.
This coloring process produces different colored surfaces, natural colors and almost oxidized fittings that make the bag timeless and unique.
Over time the used leather wins character - the more often you wear a Campomaggi bag, the more individual gets the design.
The handbags are made of high-quality leather and the massive fittings, so they are significantly heavier than other brands, but they are more resistant.
Campomaggi logo
Campomaggi bags can be recognized by the fish logo.

The fish symbolizes the zodiac sign and another passion of the designer - the fish.
Campomaggi Shops - Campomaggi boutiques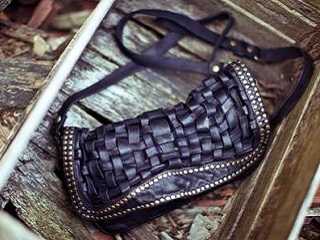 Campomaggi has already established in the international market.
In Germany you can find Campomaggi shops in Munich, Frankfurt, Regensburg, Constance, Hamburg, Cologne, Krefeld and Nuremberg.
In Austria you can buy Campomaggi bags in Vienna and Kitzbühel.
In Italy you can find the following Campomaggi Stores:
Campomaggi Shop Milan:
Reptile's
Campomaggi Shop Rome:

Tangram
Mitsukoshi
Due Concept
General Store
True Love
Kilt
Campomaggi Store Viterbo (Lazio, near Rome):
Rompietti
Campomaggi Store Siena (Tuscany):
Le Torri
Cardinali
Campomaggi Shop Arezzo (Tuscany):
Arte srl
Campomaggi Shop Forte dei Marmi (Tuscany, near Lucca):
Luca del Forte
Campomaggi Store Florence:
Gerard
Campomaggi Outlet
In Italy you can find the following Campomaggi Outlets:
Until now we do not know any Campomaggi Outlet. The bags are only sold in the Campomaggi Shops.
Campomaggi online Shop
To buy Campomaggi bags online at the best price we recommend to compare the prices of several online stores.

Let yourself be inspired by the young designer label and order now your favorite model in the Campomaggi online Shop!

All Campomaggi handbags models you can find on the official Campomaggi website:
Further interesting articles