Gucci Handbags: Gucci online Shop and Outlet
Gucci bags - the company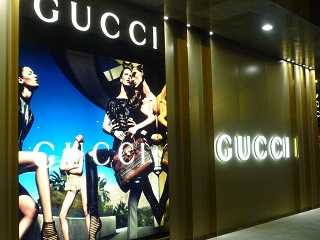 Handbags from Gucci stand for luxury, elegance and finesse.
The Italian bags manufacturer Gucci is part of the Gucci Group, which includes also other luxury brands such as Balenciaga and Yves Saint Laurent.

Gucci was founded in 1921 by Guccio Gucci in Florence.
The leather manufacturer Gucci quickly founded several branches in Italy and became famous in 1947 with the handbag with bamboo handle "Bamboo Bag", which was originally created to safe material resources.

The Italian fashion house Gucci is known for luxury handbags and fine leather goods.
After the death of the Gucci company founder substantial ownership disputes followed within the founding family, which led to a gradual sale of investment companies.
In 1998 the competitor Prada has taken over 9.5% of the share volume of Gucci.
In the early 2000s Gucci was mainly taken over by French luxury goods group PPR, to whick belongs also Bottega Veneta bags.
Gucci bags logo
The rider saddle has become a status symbol that marks all Gucci bags.
The symbol of the Gucci logo consists of two interconnected stirrups.
As gucci logo is formed by two interlocking letters "GG", which stand for the initials of the founder Guccio Gucci, who at the beginning has worked as a saddler.
Gucci handbags design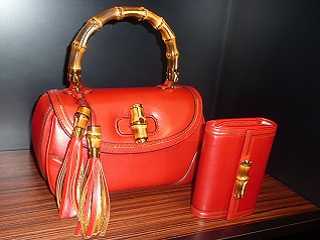 All Gucci models have in common that they elegant, timeless and classic - therefore they are an perfect long-time companion.
The exclusive Gucci handbags are popular around the world - even in China Gucci and Prada are one of the most popular bags manufacturers.
Gucci bags are the special accessories for fashion-conscious people with sex appeal.
The Gucci bags design has been influenced by Tom Ford, who changed the Gucci look towards glamor. In 1992, Tom Ford was promoted to the design director and he created the new  Gucci style.
The star designer Tom Ford is considered as the inventor of the "clean chic tradition". In 2002 he left the Gucci Group to found his own fashion label.
Since 2006 the stylist Frida Giannini is the designer of the Gucci bags collection which includes classic Italian handbag models and an innovative line of clutch bags, shoulder bags, tote bags and classic shopping bags.
Gucci Shops
Gucci leather goods are very popular, so you can find them all over the world.

In addition to the Gucci factory in Florence there have been established other factories.

In the international Gucci Shops you can also find Gucci perfume and Gucci sunglasses.

All Gucci boutiques can be found on the official Gucci website - see link below "Gucci online shop"
Gucci Outlet in Italy
In Italy you can find following Gucci Outlets:
THE MALL
Luxury Outlet in Tuscany, about 30 km south-east of Florence
Brands: Armani, Balenciaga, Bottega Veneta, Dior, Fendi, Gucci, Hogan, Roberto Cavalli, Salvatore Ferragamo, Tod's, Valentino, YSL, ...
More information - see The Mall Outlet - 30 min from Florence
NOVENTA DI PIAVE DESIGNER OUTLET
McArthurglen Outlet Noventa di Piave, about 40 km north of Venice
Brands: Bottega Veneta, Burberry, Carpisa, Coccinelle, Fendi, Fossil, Gucci, Guess, Pinko, Patrizia Pepe, Piquadro, Prada, Salvatore Ferragamo, Tommy Hilfiger, Valentino, Versace, ...
More information - see Noventa di Piave Outlet - 30 min from Venice
Gucci fakes - fake Gucci bags
The famous Gucci handbags are often faked, especially in China you can find the so-called "Gucci fake".
Because of numerous plagiarism you should always check if an Gucci online store is really trustworthy.

Be careful before buying a handbag: try to find customer feedback (for example by Google search), check the design of the web shop (high quality or cheap impression, erros in translations) and take a look at the website impressum (avoid online Shops from Far East ).

Gucci online stores usually offer payment possibilities with credit card  and secure payment options like PayPal or direct debiting.
See also our recommandations regarding fake Louis Vuitton bags
Gucci online Shop
To find Gucci bags cheaper, you should compare the prices and shipping costs of several webshops.

Before buying bags online please always verify the trustworthiness of the shop (see Gucci bags fakes).

In the "flagship store" of Gucci you will find all handbag models and prices:
Further interesting articles