Fendi handbags: Fendi online shop and Outlet
Fendi bags - the company
The Italian fashion company Fendi is specialized in the production of handbags and leather goods.
The luxury goods manufacturer Fendi fabricates bags, shoes, accessories, clothes and other products.
In 1918 Fendi was founded by Adele Casagrande in Rome, she has opened a shop for leather goods and furs. Adele married Edoardo Fendi and the company was renamed with his name.
After the war the five daughters of the Fendi family have taken over the family business. They have developed independently operating business units. Since then the daughter Anna Fendi is responsible for leather goods and accessories.
In the 1980s Fendi fell into a financial crisis. In 1999 a share of 51% of the Fendi company in deficit was purchased by Prada and LVMH.
However, also Prada failed to pilot Fendi in the direction of profitability.
Therefore in 2007 Fendi was sold 100% to the French LVMH Louis Vuitton Moet Hennesy fashion group.
LVMH is already owner of the luxury bags manufacturer Louis Vuitton and Bulgari.
Since then, the expansion of Fendi was speeded up.
Fendi Logo
The inverted FF logo (two intertwined letters, the so-called Zucca logo) decorates the Fendi bags collection.
The distinctive double F symbol was designed by Karl Lagerfeld.
This logo has developed into an international status symbol, which you can find now on all Fendi products.
Fendi bags Designer - one step ahead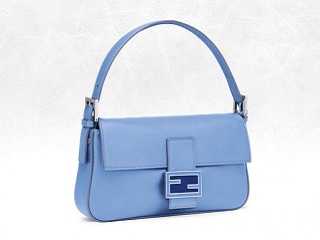 The exclusive Fendi handbag design is young and trendy – thanks to an innovative and creative company structure.
Fendi is always ahead of the time and trends.
Since 1965 the Italian bags from Fendi are created by the Fendi sisters in collaboration with the German fashion designer Karl Lagerfeld (see also Chloé bags and Chanel bags).
The 1999 by Silvia Fendi (daughter of Anna Fendi) designed Fendi Baguette handbag became synonymous for luxury bags from Italy. More than 1 million baguette bags have been sold and it became the designation "it bag".
Even before Silvia landed a great success with the from her designed Fendi Spy Bag (2005) and B Fendi Bag (2006).
Chief designer of the Fendi women's line is still Karl Lagerfeld - this could be the reason why Fendi bags are so popular in Germany.
Silvia Fendi is the co-designer of the women's line and since 1994 she is the head of design for leather goods and accessories.
Fendi bags modells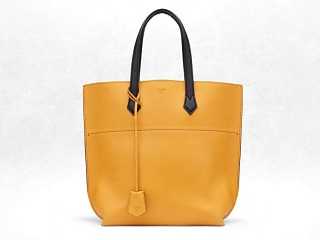 The elegant bags from Fendi stand for highest elegance and best quality.
Fendi bags are famous for their thin baguette bags, typically in the colors black and mud brown.
Attention: ther are many Fendi fakes - counterfeit Fendi bags:
The popular Fendi handbags are often copied and sold on the black market.
In 2006 even the U.S. supermarket chain Wal-Mart has been accused for the sale of fake Fendi handbags. Wal-Mart has paid a large sum of money to Fendi to cancel the accusation.
Due to numerous plagiarism you always should check if the online shop is trustworthy.
Classic Fendi bags:
Giant Chef Zucca
Chef with Zip
Chef Shopping
Medium Chef
Chef new Hobo
Chef new Large Tote
Mamma mia bag
Fendissime
The "young" line of Fendi (similar to Miu Miu bags from Prada) was created in 1987 by Silvia Fendi in collaboration with Karl Lagerfeld. However, in late 2001, the company decided to remove the line from the market in order to focus on the core brand.
Fendi Shops
Worldwide there are more than 130 Fendi boutiques, 25 of them in Europe.
3 Fendi boutiques can be found as "shop-in-shop" in Germany (Munich, Berlin and Stuttgart), but they are selling only accessories.
The Fendi flagship store and Fendi headquarters are located in Rome in the "Palazzo Fendi" at Largo Goldoni.
Many Fendi stores are located in Italy, for example in Venice, Naples, Milan, Florence, Bologna, Capri and Forte dei Marmi.
Fendi Outlet in Italy, Fendi bags Outlet
In Italy you can find following Fendi Outlets:
FENDI OUTLET
Via Pian Dell'isola 66/33, 50067 Rignano sull'Arno (FI)
Position Fendi Factory Outlet: south-east from Florence
Tipp: in only 1 km distance you can also find the Dolce Gabbana Outlet
NOVENTA DI PIAVE DESIGNER OUTLET
McArthurglen Outlet Noventa di Piave, about 40 km north of Venice
Brands: Bottega Veneta, Burberry, Carpisa, Coccinelle, Fendi, Fossil, Gucci, Guess, Pinko, Patrizia Pepe, Piquadro, Prada, Salvatore Ferragamo, Tommy Hilfiger, Valentino, Versace, ...
More information - see Noventa di Piave Outlet - 30 min from Venice
THE MALL
Luxury Outlet in Tuscany, about 30 km south-east of Florence
Brands: Armani, Balenciaga, Bottega Veneta, Dior, Fendi, Gucci, Hogan, Roberto Cavalli, Salvatore Ferragamo, Tod's, Valentino, YSL, ...
More information - see The Mall Outlet - 30 min from Florence
Fendi Online Shop
If you like to buy Fendi bags online at the best price, we recommend to compare the prices of several online stores.
Take care because many Fendi bags that are offered in the internet are fakes. If you have seen the series "Sex and the City", you will know that Fendi bags are often copied.
Before buying in an online shop you should make sure that you will buy an original Fendi bag.
Only a genuine Fendi handbag will make you happy forever.
Fendi official Website:
Further interesting articles