TELEPASS Italy: buy TELEPASS Italy, toll Italy TELEPASS – how works the TELEPASS toll system in Italy, how to buy TELEPASS for Italy
TELEPASS Italy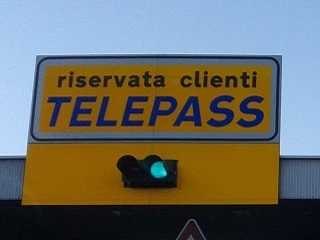 The most easy possibility for the payment of motorway tolls in Italy is TELEPASS. Thanks to this system you can avoid queues:
By use of the video toll system TELEPASS you are always the fastest at the toll stations in Italy, because you are allowed to use a reserved lane for TELEPASS members and you do not have to stop for toll payment.
We will show you where you can buy the TELEPASS for Italy and how works the payment of Italian motorway tolls.
By use of the TELEPASS Italy and the prepaid ViaCard you can pay the toll on all motorways in Italy (with the exception of Sicily).
We will show you how to pay the road toll in Italy by use of TELEPASS. Furthermore you will find a list with all advantages and disadvantages of this automatic toll system.
Advantages TELEPASS Italy
Cashless payment of motorway tolls in Italy
Reserved yellow lane at the toll stations for TELEPASS or lane with symbol "T"
No stop at toll station, just drive through -> no waiting time
Automatic accounting of the motorway tolls (once a month)
NO Italian bank account necessary (thanks to our partner maut1.de)
NO more acrobatics required to pay - especially for those with short arms or drivers of on the right side driven vehicles (England, ...)
NO stress
With the service GO BY TELEPASS you can also pay for some parking places in Italy (important: take the entry/exit track with the TELEPASS logo)
Here you can find many other practical recommendations regarding toll roads in Italy:
Italy motorway tolls
Disadvantages TELEPASS Italy
Registration required, monthly service fee (about 4,30 EUR / month - stand 2023) for TELEPASS EURORPE to travel free in Italy, France, Spain and Portugal
Activation cost (about 6 EUR - stand 2023)
Waiting time for electronic receiver "TELEPASS Box"
No discount, not even for frequent travelers
For those who take toll roads only sometimes it is questionable, if the difference of a few minutes of waiting time will justify the purchase of TELEPASS
Buy TELEPASS Italy: where to buy TELEPASS in Italy ?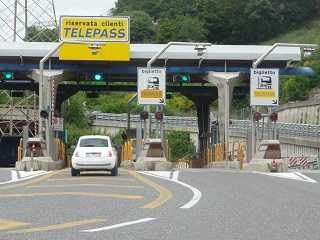 Previously, an Italian bank account was required for the Telepass. This is no longer necessary today.
You can order the TELEPASS toll boxes for cars and motorcycles online at : www.maut1.de
A Telepass for motorhomes over 3 meters high has also recently been offered.
But take into account that it will take a few days for delivery time of the receiver.
Then this box (TELEPASS OBU "ON-Board Unit") must be fixed behind the windshield.
Now it is possible to order the TELEPASS receiver online at:
Easy and convenient: Tollbox from maut1.de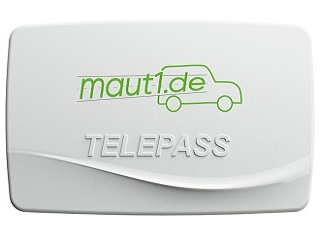 Reduce traffic jam and get faster to your holiday with maut1.de.
Stuck in traffic jam in front of the toll station in the Italian heat. The kids are screaming in the back. Is there no way to get along faster…
There is!
With the tollbox from maut1.de you can use reserved lanes which cannot be used by manual payers and drive past next to the others waiting. You can order here.
With our tollbox you do not have to stop at the barrier, you can drive as it opens automatically. The tollbox which is mounted on the windshield. It peeps and the fees are paid. maut1.de takes care of everything and charges the tolling fees once a month afterwards with a transparent invoice.
maut1.de is the first German provider of a tollbox for light vehicles which can be used in four countries: Italy, France, Spain and Portugal. You do not have to care about tolling anymore. maut1.de is the official partner of the renowned German automobile club ADAC.
Advantages:
5 countries: One tollbox for Italy, France, Spain, Portugal and Croatia.
Safe time: You can safe up to 45 minutes per tolling station compared to manual payments
Transparent accounting system: Simple monthly debit. Payment with PayPal or credit card.
Comfortable: Including free bracket, handy tollbox (new "SLIM transponder").
Multiple uses: For cars (also with trailers), mobile homes (please note the height restrictions) and motorcycles.
Order toll box online
»
Toll box Telepass Italy order online and save time & stress !
Buy TELEPASS in Italy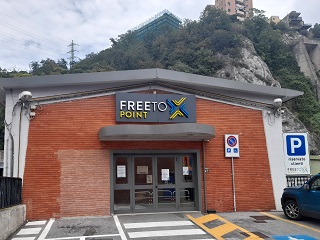 You do not have to make an advance booking for the TELEPASS - it can be purchased also directly in Italy.
The TELEPASS receiver can be purchased at:
PuntoBlu
FREE TO X POINT
TELEPASS Point (e.g. selected ENI petrol stations)
Here is a list of Autostrade per l'Italia service points:
"Elenco Punti Assistenza Autostrade per l'Italia" for Northern, Central and Southern Italy
www.autostrade.it/it/elenco-centri-assistenza
E.g. in Genoa you will find a FREE TO X POINT service point at the "Genova Ovest" motorway exit. Please note the limited opening times.
Recommendation: if you also want to use the Telepass in France, Spain and Portugal, then you should choose the "Telepass Europeo" service.
Telepass Europeo: monthly service fee (EUR 4.30 / month - as of 2023)
ENI TELEPASS Point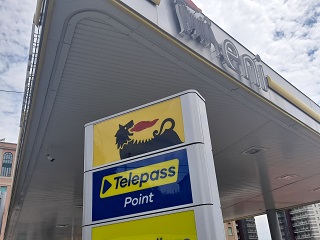 There are over 500 ENI petrol stations in Italy that are also active as Telepass Point.
While you are refueling your car, you can now also order a Telepass receiver and purchase accessories.
For example, I bought a second Telepass holder for a second car, because a receiver can normally be used for 2 vehicles. Took only 1 minute then the yellow plastic bracket was already glued to the windshield.
A quick solution, otherwise I would have had to order the bracket online.
On the ENI website you can activate the filter "Telepass" to show a list of all petrol stations with this service.
ENI station finder:
https://stationfinder.enistation.com
Pay toll in Italy with TELEPASS: Toll Italy TELEPASS
When you exit the Italian motorway you will reach the toll gate - the so-called "casello".
If you have a Telepass receiver then you can take the yellow lane "TELEPASS" (reservated TELEPASS track) or a lane with the symbol "T".
In this track there is no queue because the drivers do not have to stop to buy (full automatic payment without staff, you can drive through the toll gate with a speed up to 30 km / h).
When you drive through the toll gate you will hear a high tone from the receiver that confirms the successful payment.
The traffic light gets green, the barrier opens and you can already speed up again.
TELEPASS Italy accounting
If you use TELEPASS to pay the Italian motorway toll, then you will receive the bill.
You do not get individual bills for each toll station, instead you will get a toll list for each vehicle.
The total due will be charged including the service fee every 1-3 months.
 The toll is automatically paid by use of:
TELEPASS Family - only with Italian bank account
The offer TELEPASS Family is available only for those who own an Italian bank account or an Italian credit card.
The TELEPASS Family can be ordered online, the payment / accounting will be done from the Italian bank ("banca convenzionata").
With the option TELEPASS TWIN you can register additional 2 cars.
For more information please refer directly to the TELEPASS provider:
www.telepass.com/en/
Holiday Apartment in Genoa for up to 4 people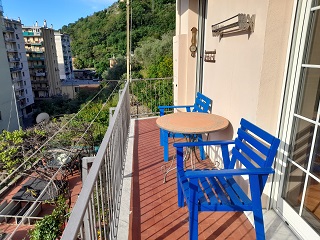 If you come to Genoa and want to rent a nice holiday apartment with balcony, then I recommend my flat.
Highlights: 2 bedrooms, living room with open kitchen and balcony, very bright and friendly, Broadband Internet (Wi-Fi), spacious bathroom with whirlpool tub.
Excellent infrastructure with many shops and very good bus connections to reach the center of Genoa.
Ideal for a weekend as well as for a long term stay.
»
Rent your Genoa Holiday Apartment commission free & with attractive price from private! Make your reservation now!
Italy toll - more information
Here you can find further information regarding toll roads in Italy and how to calculate and pay the motorway toll: